Visiting Palestine




In short: Do it if you can.

I lived in the West Bank for two and a half years, and they were some of the best years of my life. Colorful and fun and friendly, inspiring and unforgettable... and much more that you will have to see for yourself. It's also very rarely dangerous for foreign visitors who steer clear of areas where clashes regularly take place. These are easy to avoid, and in general a casual traveler will have to go out of his or her way to find them.

There are so many fascinating places to visit and people to meet, it's hard to narrow it down. But a good place to start, for the politically-minded, is the neighborhoods in East Jerusalem that are being emptied of Palestinians and filled with Israeli settlers. Silwan and Sheikh Jarrah are two of the most famous examples, and very easily accessible from the Jerusalem Old City. If you contact me, I'll be happy to put you in touch with someone who can give you a tour.

Tent of Nations is an organization that works for peace on a gorgeous farm near Bethlehem.

Alternative Tours, recommended by Lonely Planet, has been operating since 1997 from the Jerusalem Hotel (Nablus Road, a three-minute walk from Damascus Gate or the American Colony Hotel). Its political tours safely take travelers to sites in and around Jerusalem as well as further into the West Bank (e.g., Hebron, Jericho, Nablus, and Qalqilya). The tours provide information about the situation on the ground and facilitate encounters with local people and institutions. Other, more touristic tours include Bethlehem, the Dead Sea (Masada, Ein Gedi, Qumran), Nazareth, Tiberias, and the Sea of Galilee.

Here's the (apparently) official site for tourism in Palestine.

The glossy magazine This Week in Palestine usually has monthly listings for events, such as concerts, festivals, and film screenings. Here's the online version of the events section.

The two main venues for cultural events in Ramallah are the Ramallah Cultural Palace and the Sakakini Cultural Center -- both gorgeous venues. Also the Qasaba Theater, which hosts plays and movies and is very centrally located.

My favorite restaurant in Ramallah is Pronto, an Italian place with a good wine selection and tasty cappuccinos that overlooks Ramallah's City Hall Park. Also the owner Bassem is very charming. If you get chilly try Ziryab, another lovely restaurant -- it has a fireplace and is located on Ramallah's main street near the famous Rukab Ice Cream. Or the Stars and Bucks coffee house just for a laugh. There's a new hostel in Ramallah for the budget-conscious (they also offer tours), but you can find accommodations for all tastes and budgets.

It's also definitely worth visiting the famed Taybeh Brewery in a gorgeous village not far from Ramallah called Taybeh. The family who owns it is very charming. They speak excellent English and are happy to talk your ear off about Palestine and beer!

A great resource was put together by Tufts University students who support peace in Israel/Palestine. These West Bank tours are definitely worth considering, even for casual travelers who enjoy having their horizons expanded and their mind blown in a relatively safe and structured way:


Breaking the Silence

Tour Hebron and the Southern Hebron Hills in groups led by former Israeli soldiers. 70 shekels ($20) per person
Register at breakingthesilence.org.il/tours/4 or email info@breakingthesilence.org.il


Interfaith Peace Builders
They lead delegations that last several days and meet with diverse representatives of Palestinian and Israeli society, with a focus on those working nonviolently for a resolution to the conflict and an end to the occupation. You'll visit homes and sites on both sides and have support to make the most of your experience when you go back home. An unforgettable journey.
Learn more at their website


The Israeli Committee Against House Demolitions (ICAHD)
Tours to East Jerusalem, Greater Jerusalem, and the Jordan Valley. 150-250 shekels ($40-60) per person, 2-5 hours, departs from ICAHD office in downtown West Jerusalem
Register at ICAHD.org/tours, email tours@icahd.org, or call +972-2-6245560.


Green Olive Tours
This is an Israeli company that does tours in the West Bank -- an Israeli friend of mine went to the Taybeh Oktober Fest with them a few years ago and had an amazing time.
Tours to Jenin, Bethlehem, Ramallah, Hebron, Nablus, the Galilee and other Palestinian cities
Homestays, guest houses, and hostels also available for overnight stays
Register at toursinenglish.com or call 972 03-721-9540


Alternative Tourism Group (ATG)
Tours to Bethlehem, Hebron, Ramallah, Tel Aviv/Jaffa, Nazareth, Palestinian refugee camps, Bedouin communities, and Israeli West Bank settlements
Email samer@atg.ps to register, or call 0522 934 415 or 0598 944 142 for last-minute booking


Machsom Watch
Tours of the West Bank, Jerusalem, and Israeli checkpoints led by a group of Israeli women peace activists
Contact manchsomwatchtours@gmail.com or call 055-664-1797 to schedule a tour. More info at machsomwatch.org


Windows for Peace
Full-day tour to Hebron and the AIDA Refugee Camp in Bethlehem, departs from Jerusalem train station
Email melanie@win-peace.org or visit win-peace.org


Global Exchange Reality Tours
They sometimes have delegations that take people through Palestine
Learn more at their website


More Resources
More great resources and suggestions can be found here
Palestinian Surprises is a website with lots of beautiful photos and stories
Pilgrims of Ibillin is a fantastic Christian organization that promotes peace in many ways, located north of Nazareth
I've heard wonderful things about the Jifna Guesthouse, an extremely popular family-run guesthouse in the picturesque village of Jifna, near Ramallah and very close to Bir Zeit
The "Guesthouses in Palestine" website lists more guesthouses all around Palestine
Other points of interest: Nabi Saleh (a center of Palestinian nonviolent resistance), Waha al Salaam (Oasis of Peace, a mixed Palestinian/Jewish school located in Israel), Ein Rafa (Majda Restaurant), Palestinian Heritage Center (Bethlehem), Wadi Qelt, and the Monastery of St. George
Can I travel to the West Bank without a tour?
YES! It is inexpensive, safe, and relatively easy to travel to the West Bank on your own. You can catch a bus at the (East) Jerusalem bus station one block from the Damascus Gate. (This is different from the Jerusalem Central Bus Station, which is located a few miles away.) It's an open-air station, basically a parking lot with buses to various places in different spots. You can ask anyone, "Weyn bus ila..." (Where is the bus to...) followed by the town or city you want. The Number 18 bus goes to Ramallah and costs about 7 shekels ($2). From Ramallah, you can catch buses and service taxis to other Palestinian cities, and it's not very expensive.

On the way into the West Bank, the Qalandia checkpoint usually isn't that bad. Often the buses simply pass through. But on the way out, you will likely be asked to get out of the bus, present your passport, and walk through the checkpoint with your fellow passengers. This is a typical procedure that many Palestinians must go through every day. Don't be alarmed. With an American passport you are generally allowed to travel anywhere in the West Bank.

The trip from Jerusalem to Ramallah will take roughly half an hour depending on several factors. The trip out can take a bit longer due to the bottleneck at the checkpoint. Leave at least an hour to return to Jerusalem from Ramallah.

Most people you will run into will speak English, and as a rule they will be welcoming and happy to answer any questions.

Welcome to Palestine!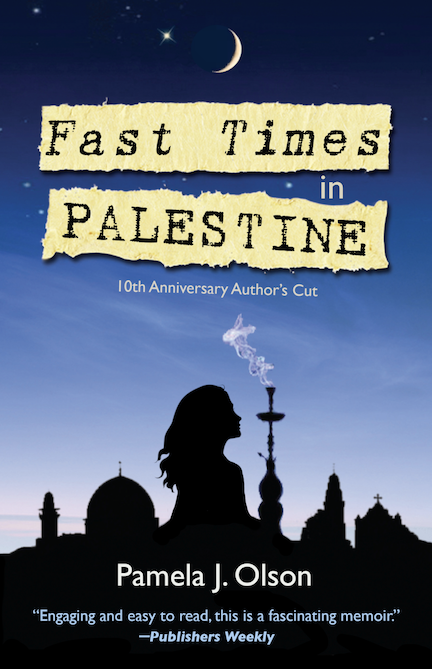 Click to view the book's Amazon page